The Louche FC - "Hands"
In anticipation of the forthcoming single, here is a free teaser from the 'Romantic' Sessions. Crooning malaise collides with relentless pounding sexual rhythms, soaked in abrasive and chiming tones.
Download this for free, below or [HERE]. Consider it a gift.
Remember: The Louche FC play THE ELECTRIFICATION OF SALFORD II, Saturday 22 October 2011 (tomorrow), with Post War Glamour Girls / Victories at Sea / DJ Emmy the Greater. Details [HERE]
Oh, and Louche tumblr is up ….[HERE]

The wait is over. The much anticipated Ghost Outfit debut single is released by SWAYS Records on 31 October 2011 (Halloween!). Available on ltd edition white 7" vinyl and digital download. If you can't wait any longer then pre-order [HERE] 
OR if you want something really special then order the Ghost Outfit 7" special edition. However, there are only 50x available.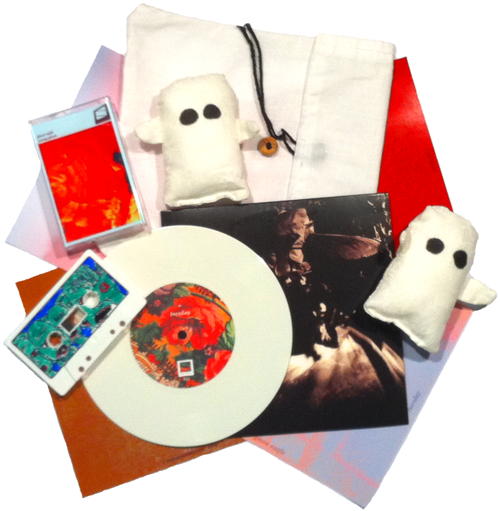 Special Edition - Ghost Outfit debut 7" on white vinyl with handmade plushy toy ghost and 7" artwork square.  Also includes the 13 track Young Ghosts EP Sides One and Two.  EP is on a white cassette tape with unique hand drawn designs, courtesy of Mike Ghost. All of the above is contained in a white cotton envelope style bag. Get one on order now [HERE]
Ghost Outfit - I Want Someone Else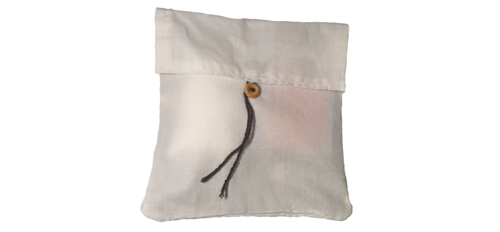 THE ELECTRIFICATION OF SALFORD II continues on Saturday 22 October 2011 at the glorious Kings Arms in Salford (10 mins walk from Manchester Cathedral).
With fuzzy reverbists THE LOUCHE FC, the warm brooding yarbols of Leeds band POST WAR GLAMOUR GIRLS and stars of Underachievers; VICTORIES AT SEA.
Facebook event details through [HERE]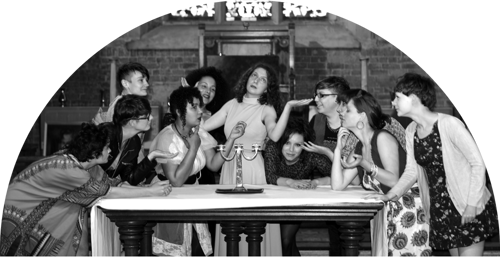 We are pleased to announce the first 12" release on SWAYS will be the self-titled EP from the Manchester-based all-female massive known collectively as WOMB. Release date: 10 October 2011, available for pre-order [HERE] Each vinyl will come with handmade covers, some of which will be prints of Womb member's body parts. You can grab a free digital download of EP track, 'Dance For Me (Bitch) Gets Me Too Wet' from [HERE] or [HERE]
Sometimes it's noise, sometimes it's punk, sometimes it's no-wave, sometimes it's psych, sometimes it's spacerock, sometimes it's free jazz and sometimes it drone.
At their second gig, Dan Treacy from the Television Personalities described Womb as "like seeing the Velvet Underground for the first time". They also recently supported the great Electrelane at Manchester Academy.
Launch party at Stroke Club with PWHMOBS, Klaus Kinski and Madpack. Details through [HERE] listen to the 12" [HERE] or download the free track from the EP (below). Enjoy.
Dance For Me (Bitch) Gets Me Too Wet from WOMB 12" 
Wrap your fuxkin cochleas around this one. Melodic Records have just released a swish new compilation. Listen to it / Download it free [HERE]. Yeah it features The Louche F.C & Ghost Outfit, but it also features these:
The Soundcarriers / Grand Forever / Patterns / Hookworms / Jewellers / Holy Family / Temple Songs / Voodoo Bear / Childhood / The Bell Peppers / Dark Dark Dark VS. Tom Inhaler
Whilst we're on the subject of Ghost Outfit, have you seen the latest films for their Young Ghosts Video Project? Manchester Scenewipe and Adam "Monty" Renshaw get stuck in, the products are both amazing and disturbing (see below!)
THE ELECTRIFICATION OF SALFORD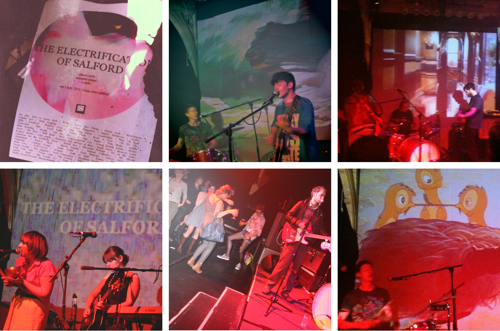 Electrification
Noun /ɪ,lek.trɪ.fɪ'keɪ.ʃən/ [U]
1 the charging of a medium or place with electricity (as adjective electrified): Martin had grown up without electricity and electrification of his neighbourhood only occurred in the mid-1990s.
2 (often as adjective electrifying) cause a sudden sense of thrilling excitement in (someone): an electrifying performance
MOTHERS OF ENGLAND, this happened …
S W A Y S records, fresh from being described as 'this city's most influential new independent label' by the enduringly, endearingly fact-averse Manchester Evening News - the label website describes its location as 'Salford, England' but such gnomic, ambiguous statements which tantalisingly hint at some kind of meaning, an elusive truth that is but glimpsed before it slips away, will never stem Manchester's long and proud tradition of not recognising the territorial sovereignty of the other city and plundering everything pure and good that it has to offer…
READ THE FULL REVIEW [HERE]
VIEW THE PHOTOGRAPHS [HERE]
You may just have spilt your coffee this afternoon, upon opening today's Manchester Evening News. Our very own Ghost Outfit do feature, found being interviewed by David Sue. It's certainly an interesting read. Grab your sen a copy.
The analogue version is [HERE]
For those digitally inclined, go [HERE]
Ghost Outfit headline THE ELECTRIFICATION OF SALFORD tomorrow, Saturday 2 July 2011 at Kings Arms in Salford. All you need is right [HERE]
Those Ghosts/Home.
Ghost Outfit present …The Young Ghosts Video Project. It is a weekly series of videos of their unreleased/rare/special tracks. Released once a week, on Thursday night at 10. Directed by both the band and collaborators. Expect many an outfitted ghost to make an appearance. There are 13 tracks with 11 videos, taking us all through to around mid august, where something else lies in wait.  Enjoy video #1 of 11 from last week (directed by Ghost Outfit). Video #2 is released Thursday 23 June 2011 at 10pm.
Visit Ghost Outfit's tumblr [HERE]
Ghost Outfit are headlining THE ELECTRIFICATION OF SALFORD on Saturday 2 July 2011. All details through [HERE]
THE ELECTRIFICATION OF SALFORD begins Saturday 2 July 2011 at the glorious Kings Arms in Salford (10 mins walk from Manchester Cathedral).
With thee mighty two-piece GHOST OUTFIT, the warped Lancastrian slacker pop of MONSTER ISLAND and Dionysian freak-out specialists; WOMB (all-female experimental noise band).
Facebook event details through [HERE]
The Louche F.C headline the FREE SHOW at Islington Mill this Wednesday 18 May 2011, with support from These Electric Lives (from Canada) / Man Made / Seahawk. All details can be found [HERE] Rumours abound that they'll be playing a brand new song, fuxkin lovely.
THEN …if you're north of the border this Saturday 21 May 2011, you can catch Le Louche headline the Victorian Glasshouse, as part of Glasgow's South Side Festival. Details through [HERE]
 - [Photo credit to Aaron McManus / Night & Day / Record Store Day 2011] - 
Ghost Outfit on fire - on a magic bus! Playing their crowd-pleaser, I Was Good When I was Young. Thanks to the people of Manchester Scenewipe [WEBSITE], who are also putting on a FREE show this Friday 6 May 2011 at FUEL in Withington (Manchester) with Brown Brogues / Ghost Outfit / Greeks all playing, see the detail(s) [HERE]
The Louche F.C are heading over to Leeds (Yorkshire), playing a FREE show at The Brudenell Social Club this Friday 6 May 2011, with The Blanche Hudson Weekend & Insect Guide. All event details [HERE]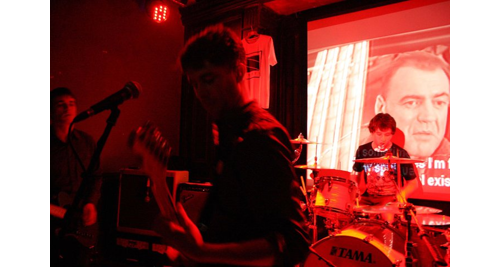 The über-cool Austrian blog, Frock n Roll has just posted an interview with Emperor Zero, you really should have a read [HERE], it includes such insights as: 'probably the most important parts of the songwriting process [are] …watching a Channel 5 documentary about Nazis or porn or sharks'
BREAKING NEWS: SWAYS embellishes itself… with Ghost Outfit!
It's official: the noise-pop duo from Manchester & Salford have joined the ranks of SWAYS. We are very pleased to announce we'll be releasing their debut 7" in the coming months. Self-confessed lo-fi artists, Ghost Outfit have been hard at work creating noise-enhanced-sounds with added emotion-driven-pop for many months now, they are very nearly ready, and their plans for vinyl are daring: details that are too soon to reveal here, but trust us: we are excited.
AND with rumours of new singles from The Louche F.C and Emperor Zero, and no doubt further oddities from Irk The Remix, the second quarter of two thousand eleven sounds extremely interesting, non?
Oddly, you can catch Ghost Outfit play live this Wednesday 23 March on the number 42 Magic Bus from Withington at 9pm, it's £1.40 entry, or free with a megarider! All details [HERE]
In the meantime, gorge yourself on some quality noisepop (taken from their forthcoming EP)…
Each one unique, each one with it's own stamp for the undeniable eternal individual, SWAYS is not a lifestyle choice for discerning consumers. SWAYS is not about consumerism or choice.
T-Shirt's are about a fiver (£5) you can get one [HERE]
In a bar at the end of the world. SWAYS Industries Video Productions proudly presents 'Only in a Dream' by The Louche F.C. Directed by Ian Mayor / Edited by Steven Cherry / Filmed on location in Hula Bar, Northern Qtr, Manchester.
YouTube version available [HERE] get hold of the limited edition clear red 7" debut short-player from The Louche FC [HERE] see them live on 31 March 2011, at Trof.