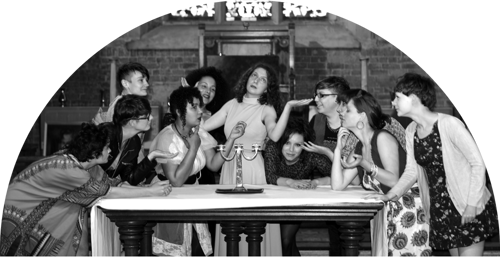 We are pleased to announce the first 12" release on SWAYS will be the self-titled EP from the Manchester-based all-female massive known collectively as WOMB. Release date: 10 October 2011, available for pre-order [HERE] Each vinyl will come with handmade covers, some of which will be prints of Womb member's body parts. You can grab a free digital download of EP track, 'Dance For Me (Bitch) Gets Me Too Wet' from [HERE] or [HERE]
Sometimes it's noise, sometimes it's punk, sometimes it's no-wave, sometimes it's psych, sometimes it's spacerock, sometimes it's free jazz and sometimes it drone.
At their second gig, Dan Treacy from the Television Personalities described Womb as "like seeing the Velvet Underground for the first time". They also recently supported the great Electrelane at Manchester Academy.
Launch party at Stroke Club with PWHMOBS, Klaus Kinski and Madpack. Details through [HERE] listen to the 12" [HERE] or download the free track from the EP (below). Enjoy.
Dance For Me (Bitch) Gets Me Too Wet from WOMB 12"